17-Aug-18 at 7:00 PM
Location: The Griya
Indonesia's Independence Day Celebration
We proudly present "PASAR SENGGOL" Traditional Indonesian street food buffet.
All you can eat "Buffet" & Authentique Balinese Music and Dance Show
Book your favorite table with our staff now!!
Entertainment and food start at 7pm
Everyone is welcome : proper attire required
Info and bookings;
(0363) 23571 OR 0821-4500-7161 OR reservation@thegriya.com
See you all then..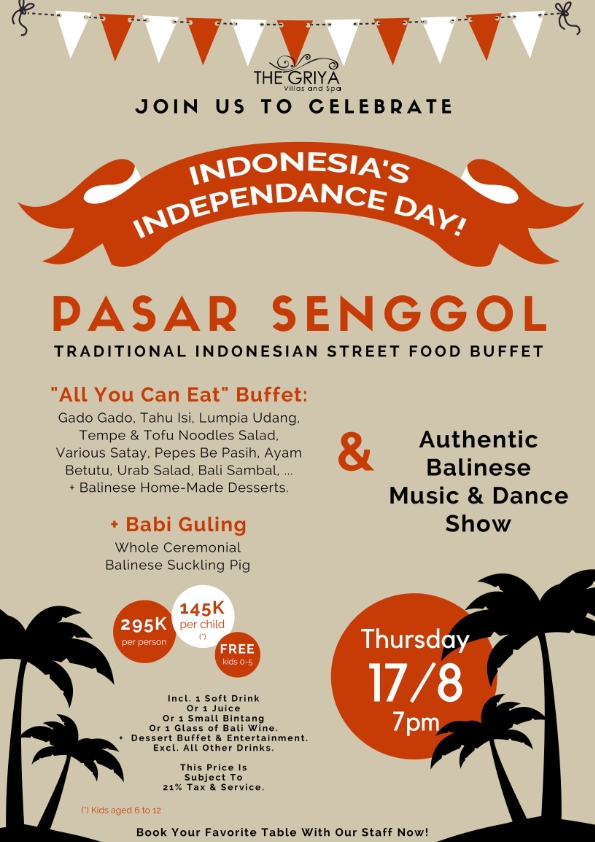 Santai Hotel Event calendar
| | | | |
| --- | --- | --- | --- |
| Date | Event | Time | |
| 16-Dec-18 | The Griya: Balinese Music & Dance Show | 7:00 PM | Read more |
| 17-Dec-18 | The Griya: Movie Night: Destination Wedding 2018 | 8:00 PM | Read more |
| 18-Dec-18 | Quest Band Live | 7:00 PM | Read more |
| 19-Dec-18 | The Griya Movie Night - The Holiday Calendar | 8:00 PM | Read more |
| 21-Dec-18 | The Griya: DEWA - Solo Guitarplayer & Singer - Live | 7:00 PM | Read more |
| 25-Dec-18 | The Griya : Odon & Friends Live | 7:00 PM | Read more |
| 26-Dec-18 | The Griya Movie Night - Shrek The Halls | 8:00 PM | Read more |
| 27-Dec-18 | Santai Hotel: Balinese Dance Show | 7:00 PM | Read more |
| 28-Dec-18 | The Griya: Natural - Live Acoustic Set | 7:00 PM | Read more |
| 30-Dec-18 | The Griya : Balinese Music & Dance Show | 7:00 PM | Read more |